There is nothing more unsettling than a fire occurring in a large building in a commercial environment.
In terms of worker safety, there are so many factors to consider, of which one is of utmost importance. It can be overwhelming and sobering to realize a commercial property's condition after losing it.
Since AquaTex Water Damage Restoration has years of experience restoring commercial fire damage, we can assist you through the entire process with the least amount of stress and frustration. Whether the structure has been damaged by fire, smoke, or soot, our team will quickly assess the damage, develop a plan to make repairs, and lay out a timeline for your return to work once the damage has been assessed.
In addition, we will work with your insurance company to determine the proper scope of loss that protects your interests as we assist you in identifying any areas of concern with your building. Using our experience, we can point you in the right direction.
A Step-by-Step Guide to Fire Damage Restoration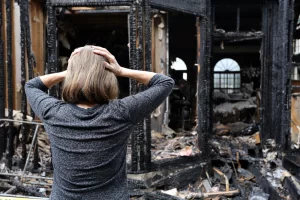 Fires can be frightening and distressing experiences, no matter where they occur. The world is turned upside down in an instant. Damage to or destruction of our possessions is common, but our way of life is often drastically changed, sometimes for the better, sometimes for the worse. It is sometimes necessary to turn to someone who knows what they are doing when times such as these arise, someone who will look after your interests.
Get started on your path to health by calling AquaTex Water Damage Restoration today. Homeowners and businesses throughout the South can rely on us for a full range of residential and commercial services. Whether you need help with storm damage, flood damage, fire damage, or mold remediation, AquaTex is here to help.
Throughout the process, all steps will be clearly outlined, and the overall objective is to restore your home or business with the least amount of stress, aggravation, or worry. Don't hesitate to contact AquaTex right away!
1: Call AquaTex – (469) 536-0720
As soon as you call AquaTex, we'll get you back on the road. Upon arriving at your location, our team of restoration specialists will take the first steps in fire restoration. The health, safety, and comfort of you are our top priorities right now. In order to meet your basic needs, we will provide you with a temporary shelter, clothing, and food. Meanwhile, we will secure your property by boarding up any doors, windows, or openings. Before moving forward with our work, we will coordinate our efforts with local first responders to ensure they are capable of completing their tasks and completing any investigations or paperwork.